Jennifer's Lodge Enter & View
Healthwatch Lewisham staff and Enter & View Authorised Representatives carried out an in-person visit on March 2022 which followed accordingly to government guidance in February 2022 to return to face-to-face engagements. During our visit, we spoke with staff and service users about their experiences and response to living conditions as well as COVID-19 precautions.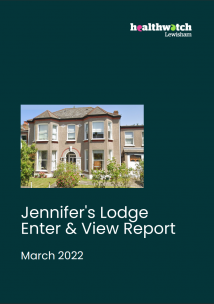 Family and friends were not present at the time. However, the manager collated a list of contact details for people that were happy to speak to us about their experience with the care home over the telephone. 
Some Interview Responses:
Management
Cleanliness, of both the home and residents is a top priority for management.
Trainings needs and attendance are recorded. Safeguarding training are conducted annually. 

Staff interacts with residents and genuinely care for their well-being. 

Residents are able to receive quick assessments and treatments from district nurse and by a GP appointment. 
Staff 
Good rapport between staff, management, and the residents.
Speak with residents regarding their concern(s) and potentially resolve any issue(s).
Feel residents are comfortable with them and for them to able to share their concerns and feedback. 
Daily covid testing to protect staff and residents.
Family/Friends
Care home has taken great care to learn about the likes and dislikes of residents.
Visits to churches have not yet been reinstated at the time.
Feels reassured by staff from communication to medical needs.  
Well accommodated when visiting regularly. 
Residents
Television brings residents together throughout the day. 

Homely setting making it a family feel. 

Watched by owner like a hawk to learn about their personalities and preferences.
Some Findings:
Security measures were well implemented.
Kitchen is small, although functional and appeared to be well-equipped and clean.
Cosy feel indoors and outdoors with plants and natural lighting. 
Several potential hazards. 
Some Suggested Recommendations:
To add a moderate visible sign outside to distinguish the care home apart from residential homes because of the similar appearance. There is no way the general public could tell that this is a care home.
There are two specific sanitation stations that are difficult to access. 
Kitchen and dinning room is directly opposite to each other by a second hallway. Foot traffic needs to be cautioned.
Many of the ground floors present a trip hazard. Other hazards noticed were in the garden.
Open-toed shoes are not recommended as it could be a potential trip and slip hazard.
For a full detailed report please download this document below for your convenience.