NHS University Lewisham Hospital Feedback Opportunity
Have you been discharged from University Hospital Lewisham (UHL) in the past year?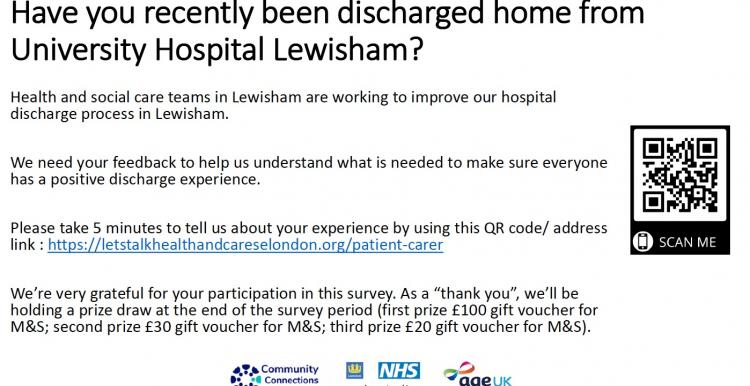 This survey is specifically designed for people who have received in-patient care at NHS University Hospital Lewisham within the last 12 months. The survey can also be completed by carers of patients. The survey asks about your experience of the process of being discharged from the hospital, and the first few weeks after coming home from the hospital.
NHS SOUTH EAST LONDON CCG is carrying out this survey to help them identify where they need to make changes. The result of the survey can also help to inform us to make the right decisions in improving people's experiences in future. The survey should take no more than 10 minutes of your time to complete and is open until Thursday 21 July.
NHS SOUTH EAST LONDON CCG are very grateful for your participation in this survey. And as a "thank you", they'll be holding a prize draw at the end of the survey period.
Prizes – first prize £100 gift voucher for M&S; second prize £30 gift voucher for M&S; third prize £20 gift voucher for M&S.
Winners will be contacted by email, by Friday 29 July. If you complete the survey and leave an email address they will enter you into a prize draw to win M&S gift vouchers.