Ethnic Mental Health Carers Forum
Matthew Mckenzie presents Joint Bromley, Lewisham & Greenwich Ethnic Mental Health carers forum - Friday, 29 July 2022.
Find event and ticket information below for more details.

This is a forum for those caring for someone with mental illness from an ethnic background.
                 *Carers from all backgrounds are encouraged!*
Image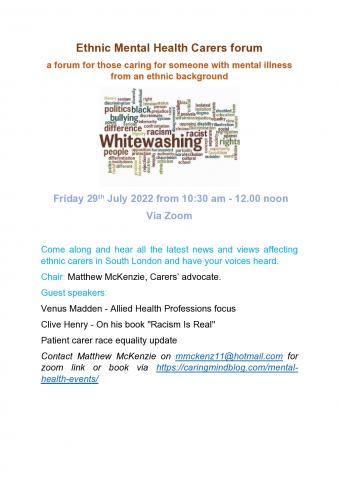 The online ethnic carer forum provides an opportunity for people from diverse backgrounds who care for someone with a mental illness to learn more about how mental health works with race and ethnicity.
The forum...
Gives an opportunity for engagement, involvement and empowerment around how services are doing. 
Is chaired by Carer Matthew McKenzie author of "The Poetry book of mental health caring".
Runs every last Friday morning at the end of the month.
The next forum is on Friday, 29th of July @ 10:30 AM.
Guest Speakers:
Venus Madden - Allied Health Professions focus
Clive Henry - On his book "Racism Is Real"
Patient carer race equality update
You can download Zoom and register by clicking the link below or contact Matthew Mckenzie for an invitation via mmckenz11@hotmail.com
Joint Bromley, Lewisham & Greenwich Ethnic Mental Health carers forum Tickets, Fri 29 Jul 2022 at 10:30 | Eventbrite