Ladywell Unit (Powell Ward), Enter and View Report
Healthwatch Lewisham staff and Enter & View Authorised Representatives carried out a visit in February 2023, to the Powell Ward of the Ladywell Unit, based at University Hospital Lewisham. It provides services to men aged 18-65 with acute mental health problems. During the visit we talked to service users, staff, and management.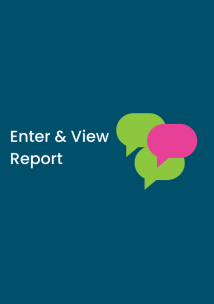 Some Interview Responses:
Management
Manager believes in respecting a patient's needs and allowing space to release their frustrations and that this has contributed to not having incidents of 'prone restraint' in the past year.

Implemented a 'calm down' box for patients who are distressed.

Hopes to create more garden and activity spaces, as well as more space on the ward, including wider corridors.
Staff
Feel supported by management and general environment is good, thanks to recent improvements.

New shift patterns allow for a mix of long and short days, which has reduced sick leave and use of agency nurses.

Frustrating when lack of accommodation is available for discharged patients, as they must stay in the ward.
Family/Friends
Family/friends are treated with dignity and respect by staff and invited to attend meetings and ward rounds.
Residents
Unclear allocation of staff, some patients are unsure as to who to approach when needing assistance.

Activities are appreciated; however, reported to be irregular and patients have lack of access to certain rooms such as the garden or other outside areas.

Lack of variety of food available; the fridge only has 'bread and butter' at night.

Patients worry about 'next step' guidelines, specifically finding accommodation when discharged.
Some Findings:
While there are limited parking spaces available, public transport nearby include a variety of bus stops/routes, Ladywell train station is a five-minute walk, and bicycle racks are available at the hospital.

Relaxed approach regarding behaviour, being that patients are allowed 'as much freedom as possible' and staff won't intervene if no one is in danger.

General décor and ambience are calming allowing a good atmosphere for residents to interact with each other and/or staff.
Some Suggested Recommendations:
Ensure advocacy materials and information is clear and readily available to patients.

Develop a review of activities available for patients and utilise the activity room more fully.

Staff should introduce themselves to the patients while also making it clear what their role in the patient's care is.
Although a response to the recommendations was requested and followed-up, there was no response from the ward. For a full detailed report, please use the download links below.