Volunteers wanted for MoonWalk London, 14 - 15 May
Walk the Walk is looking for amazing people to volunteer at The MoonWalk London, a breast cancer charity night walk, 14 - 15 May 2022.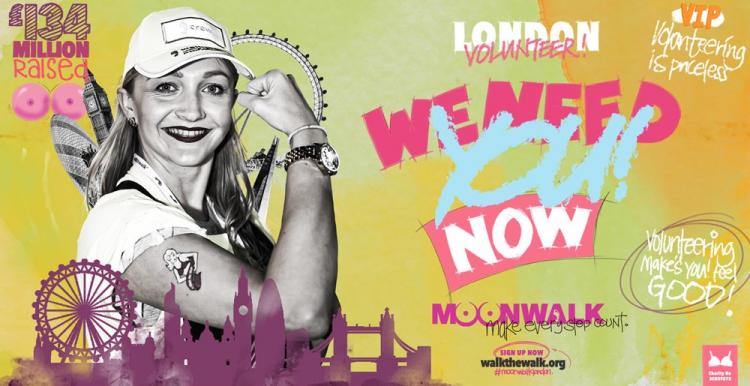 As a volunteer, you will help provide support and encouragement to the thousands of women and men who are Walkers throughout The MoonWalk London event.
Volunteer opportunities include:
Route Marshal
Service Station team
Baggage team
Cyclist
Drivers - must be aged 25 and over with a full, clean licence
Clean & Recycle team
This event starts on the evening of Saturday 14 May and goes until the afternoon of Sunday 15 May. You can join the:
Evening crew - Saturday, 5:00 p.m. to midnight
Overnight crew - Saturday, 10:00 p.m. to Sunday, 6:00 a.m.

Start times may vary, but shifts are around eight hours

Sunday morning crew - Sunday, 5:00 a.m. to lunchtime
Do you know any of the Walkers participating this year? You can put that information on your registration form so you can watch them cross the finish line.
Sign up now to volunteer with Walk the Walk and be part of something awesome at https://walkthewalk.org/volunteer/moonwalk-london-volunteer.