Q2 Patient Experience Report 2021/22
Through our Patient Experience Programme, Healthwatch Lewisham was able to capture 1,177 patient reviews about local health and social care services between July – September 2021. Find out about what local residents told us about the health and care they receive by reading our report.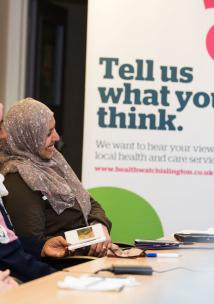 GPs
Most people told us they received good treatment and information once gaining access to their GP practice. Over 70% of comments mentioning staff attitudes were positive, especially in relation to clinical staff, however the negative proportion of feedback (mainly focused on reception staff) suggests there is still room for improvement.
Administration, getting though on the phone, and appointment availability had significant negative comments with patients' expressing their frustration about booking appointments, long waits on the telephone, phone lines being cut off and the unsuitability of the e-consult form. 
Dentists
Dentist services received extremely positive feedback relating to the quality and the effectiveness of treatment. We also received positive feedback about staff attitudes, communication, treatment explanation and service coordination.
Hospital services
Respondents were overall happy with the quality of treatment and care they received. The positive attitudes of staff were commended. However, it should be noted that a number of residents were critical of their experiences within hospital.
People left feedback about communication (mainly negative feedback) and waiting times (mostly positive feedback).
Pharmacy
Feedback suggests that overall people were happy between July and September with patients highlighting the positive attitudes of pharmacy staff, quality of treatment and care and overall experience. Comments about medicine management and prescriptions were more mixed which suggests room for improvements in those two areas.
Downloads
If you require this report in an alternative format, please get in touch to discuss this request.